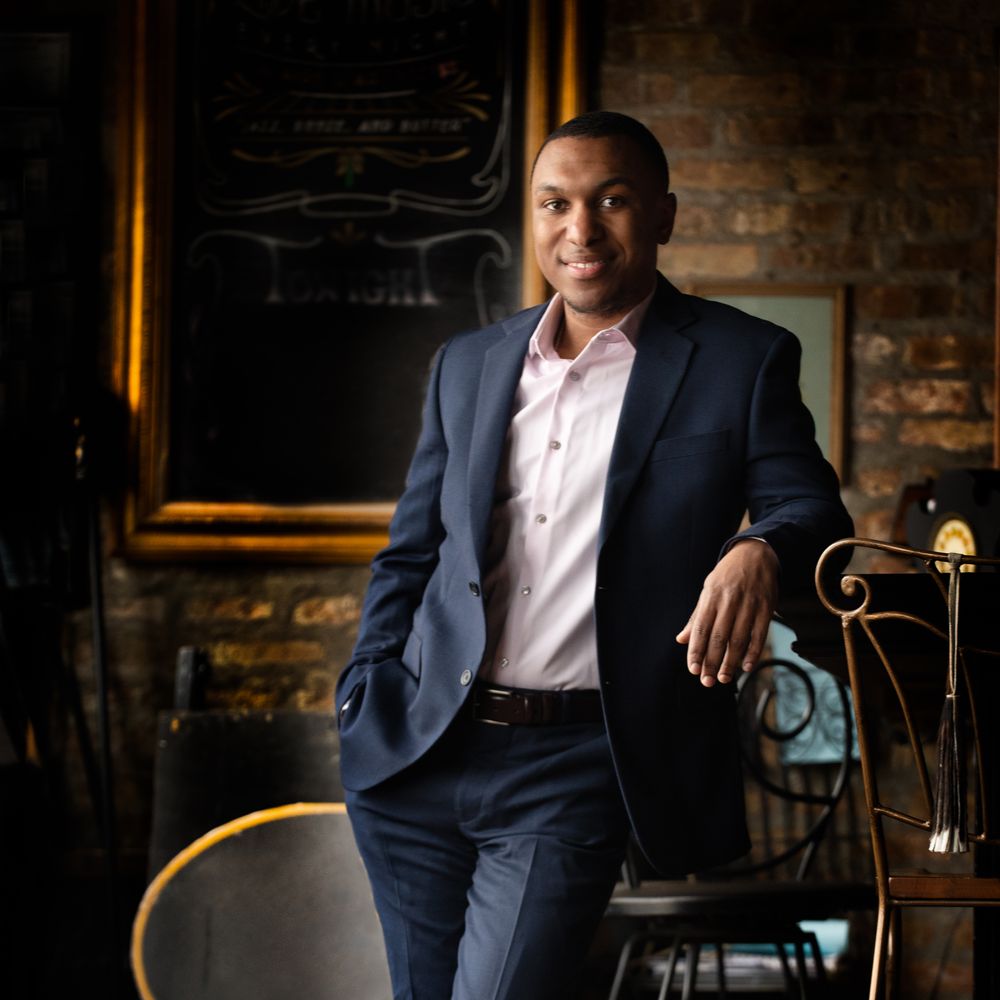 Devon Sandridge is a Chicago-based vocalist with a deep-rooted passion for unearthing the intricacies of lyrics and sharing captivating stories on stage. From his early days in the church choir, Devon's musical journey has been a heartfelt pursuit of artistic expression. As a teenager, he discovered the legendary baritone, Johnny Hartman, which ignited a true passion for singing and set him on a path of continuous growth and exploration.
Devon's life took an unexpected turn when he spent nine years serving in the Air Force, traversing the globe and immersing himself in the rich history of jazz. These experiences broadened his musical horizons, fortified his repertoire, and instilled in him the values of discipline and dedication. Amid the challenges of military life, music became a sanctuary of solace and joy for him.
Upon his return to the United States, Devon embarked on a new chapter by studying voice under the tutelage of Chicago Jazz legend, Henry Johnson. This transformative period allowed him to expand his jazz repertoire and nurture his remarkable bass-baritone voice, characterized by its reminiscent touch, phrasing, and vibrato akin to that of Johnny Hartman, as praised by Chicago Jazz Magazine.
In addition to his unique vocal range, Devon draws inspiration from a diverse array of musical influences, ranging from the likes of Joe Williams and Billie Holiday to Etta James and Stevie Wonder. It is his profound love for music that fuels his unwavering commitment to preserving the tradition and passing it on to the younger generation he is part of.
Devon has graced numerous stages and musical events, leaving a lasting impression on audiences. He has captivated listeners at renowned venues such as Andy's Jazz Club, The Jazz Showcase, City Winery, and Oil Lamp Theater, solidifying his position as a prominent figure in the vibrant Chicago music scene. In 2022, Devon released his highly anticipated debut album, "Storyteller," a testament to his artistry and the depth of his musical storytelling.
Beyond his musical pursuits, Devon holds a Bachelor's degree in Biochemistry, showcasing his diverse interests and the depth of his intellectual curiosity. With his multifaceted talents and unwavering dedication, Devon Sandridge continues to inspire and enchant audiences with his soul-stirring performances, ensuring that the legacy of jazz remains vibrant and cherished for generations to come.